Self-reflection on activities for competitive athletes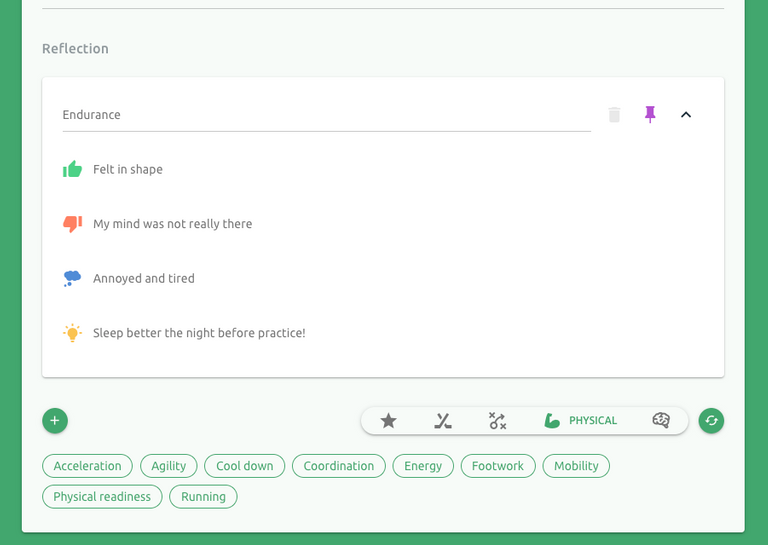 9/27/2020
How do we help our athletes become more mindful about their practice? How can we facilitate a self-reflection and self-development process? How can we keep our key learnings, both for the mental as well as physical dimensions, grouped together with the training or competitions which generated them?
These were some of the questions, coming from coaches and athletes, which inspired us to think long and hard about the topic of reflection. We've arrived at a solution which was inspired by our own team's experience inside and outside of professional sports, and a user experience which we believe is both intuitive and highly helpful whenever an athlete records an activity - whether it be a team training, a tour in the gym, a competition or a mental session- they are encouraged, as part of the recording process, to also self-reflect on that activity.
We actively support this thought process by providing dozens of sports-specific aspects on which the athlete could reflect on; these key aspects were developed in conjunction with top level coaches across different sports. The athletes are therefore able to select from an "endless" list of relevant suggestions, split in contextual categories: technique, tactics, physical, mental. Once a specific reflection aspect is chosen (e.g "defensive play"), the athlete is presented with the key dimensions he/she could reflect on:
What was good
What was not good
What I thought/felt
What helps me/I will try next (takeaways).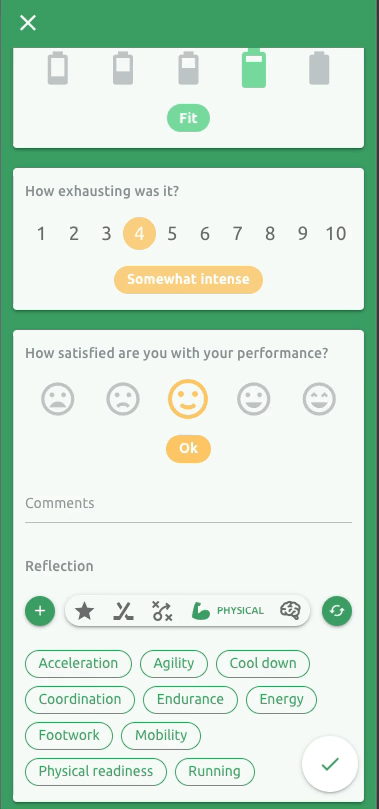 By now we have observed a large number of reflections recorded, and what we're noticing through direct feedback is that both the athletes themselves, as well as their coaches, are able to have more meaningful and focused discussions around these self-reflections, and therefore about their everyday development.
High performance sports is not only happening on court when rehearsing, sweating, struggling and succeeding. High performance sports is lived day in day out. By tracking all my training activities, I can note what is going well, what causes me troubles, what I can take away for future practices or on what topic I want to focus on with my coaches. The self-reflection feature by Athlyts gives me the chance to do it in an easy, but effective way. This is an asset with small impacts, everyday. Gathering them all together, they create positive influence for my trainings, I believe.
- Joel König, elite Badminton athlete
From developing the mental habit of thinking about one's actions and the reasons behind them, to gradually collecting a list of focus areas on which they can work on together with their coaches, to increasing the mental practice of visualization; self-reflection is a key part in an athlete's journey to improve on the various dimensions in their sport.
For the coach, one of the fundamental benefits is that they can now have a more consistent view into the athlete's thinking. They can understand what each athlete focuses on and how they are able (or unable) to identify their own weak points in technique, tactical thinking and mental focus. At the same time, they can provide their athletes with constant encouragement and advice, in a very easy manner (making use of in-context comments and messaging), which is otherwise quite hard to do in a normal day to day interaction, especially when you need to manage an entire team.
Reflecting after the training is in itself a valuable act and behavior. But from our own experience we know how helpful it can be to quickly recall what you took from your last practice, just before the next one starts. That's why we included the option to "pin a reflection", which moves them also onto your home screen, making it easy to keep it "top of mind" as long as needed.
We are very excited about building positive habits and helping the development process. Especially for the young talent in the junior age group, where focusing on good habits early from the very beginning has a lasting impact on their careers. But no matter the age or stage in an athlete's journey, we see lots of potential in further developing features that will build on and augment this type of (inter-)active self-development.
Onwards & upwards - together,
Your Athlyts team
---
Athlyts is a tech platform for individual-centered athletic development.
We believe in helping athletes improve and manage themselves by focusing on their needs and dynamics. At the same time, our "Coach" app is dedicated to serve and support the coaching staff on an everyday basis, in ways that feel intuitive and relevant. Together we want to push the quality of each athlete's development and performance level, while taking care of their health and reducing injuries.
We also believe we can have a lasting contribution by innovating on the key tech and science aspects which can support athletes and coaches everyday. Our attention is primarily focused on observing and listening, in order to understand what really works and what doesn't. That's why our platform offers a tremendous amount of functionality for free, as part of our vision to elevate the world of sports globally, together.
If you haven't given Athlyts a try yet, we warmly encourage you to do so: whether you are an individual athlete or a coach, club or federation aiming to onboard hundreds of athletes, our platform is simple, fast and free!
Also do not hesitate to get in touch with us if you have questions or ideas and feedback on how we could further improve.